HAISHA-KUN Tooth Cleaner & Mirror "Separate Type"

商品ブランド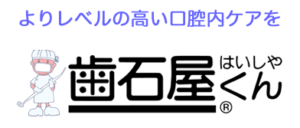 Product Description
Tooth Cleaner & Mirror "Separate Type" has a mirror on one side and cleaner detachable head on the other side.
Mirror is used to check the back side of your teeth using the reflection of your mirror and tooth cleaner is effective to scrub lightly to remove tarnish and stains on your teeth.
◎Separate type can be divided at the center into two, so you can use the pick while checking on the mirror.
The handle is bend at a 15° and cleaner is detachable brings to scrub two different angles.
One replaceable spare cleaner is included.
The mirror with fog proofed film will prevent from fogging even if you inserted it in your mouth (The fog proof effect is expected to last around one year).
MADE IN JAPAN
Specification
Material / Handle & Holder: ABS, Mirror: Synthetic resin (fog proofed), O-ring: NBR, Cleaner: Silicon rubber (containing magnesium oxide)
Size / 24 x 170 x (17) (mm)
Weight / 6.0(g)
JAN / 4947651107015
How to use
Check the back side of your teeth using the reflection of your mirror
The cleaner should remove any stains from the surface of the teeth by rubbing several times.
Wipe off any saliva or moisture from your teeth before use.
◆When attaching the cleaner, make sure it is inserted firmly so it does not come off during use.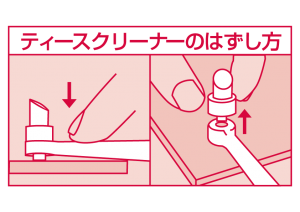 After use, gargle well and clean this product thoroughly and store it in a clean place.
[There is a fog proofed film on the surface of the mirror, so wipe it off lightly.]
[We recommend to use the tooth cleaner once a week. Avoid overuse.]
●In order to maintain your oral hygiene, regular checkups by dentist are recommended in addition to daily dental care.●
Cautions
*The adapter hole where the cleaner head is installed will loosen after a period of use. In this case, please purchase and replace with a new holder.
*The tooth cleaner will become rounded after some period of time and hard to remove stain. In this case, please replace it with a new set.
*Discontinue use immediately if you experience any abnormality.
*Keep out of reach of infants.