EISEISHI-SAN Tooth Cleaner
商品ブランド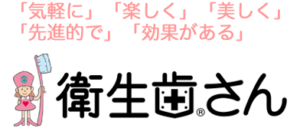 Product Description
Tooth Cleaner has a silicone rubber cleaner with abrasive (magnesium oxide) that can be scrubbed lightly to remove tarnish and stains.
The holder is inclined bend at 15° to the handle, so it can be used at two different angles depending on the direction in which the cleaner is placed.
◆"GOOD DESIGN AWARD" Product
MADE IN JAPAN
Specification
Material / Handle・Holder: ABS resin, Cleaner: Silicon rubber (containing magnesium oxide)
Size / 18 x 145 x 7 (mm)
Weight / 4.0(g)
JAN / 4947651162007
How to use
Tooth cleaner is used to scrub lightly a few times to remove tarnish and stains on your teeth.
Wipe off any saliva or moisture from your teeth before use.
◆When attaching the cleaner, make sure it is inserted firmly so it does not come off during use.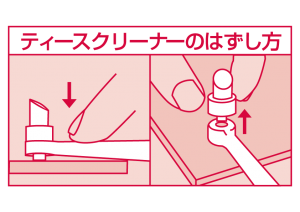 After use, gargle well and clean this product thoroughly and store it in a clean place.
[Recommended to use once a week to get the clean result. Refrain from excessive use.]
●In order to maintain your oral hygiene, regular checkups by dentist are recommended in addition to daily dental care.●
Cautions
*The adapter hole where the cleaner head is installed will loosen and wear off after a period of use. In this case, please purchase and replace with a new holder.
*If the edge of the cleaner become rounded and difficult to clean, do replace with a new one.
*Discontinue use immediately if you experience any abnormality.
*Keep out of reach of infants.